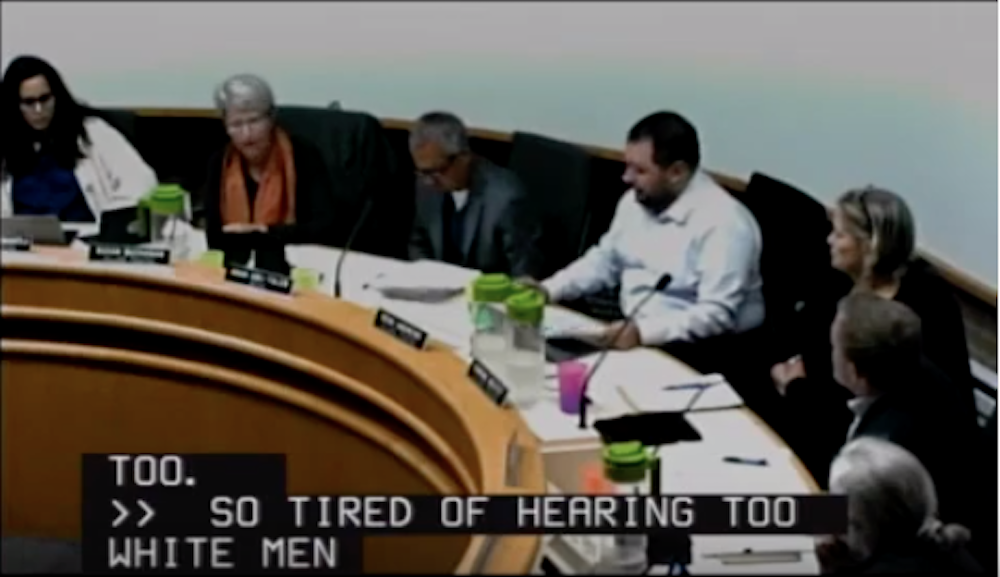 Oak Park Village Trustee Susan Buchanan (second from left) speaks at the Oct. 7 board meeting. | YouTube
Oak Park resident Steve Krasinsky is blasting Village Trustee Dan Moroney for letting his ongoing feud with fellow board member Susan Buchanan compromise the safety of the entire community.
"Today we are less safe, our village is less safe," Krasinsky, one of the founding members of a group called Oak Park Call to Action, said in a video posted to You Tube that has since been taken down. "Given the chance to distance himself from white supremacists terrorizing a member of this board, Trustee Moroney chose to further escalate the situation this week by appearing on a right-wing radio station to further damage her reputation."
The drama began on Oct. 7 when, at a board meeting Buchanan demanded that Moroney and fellow trustee Deno Andrews "shut up" after they spoke out about proposed changes to the village's "system of oppression" statement.

Oak Park resident Steve Krasinsky | Facebook
"Why are you arguing what is a system of oppression?" Buchanan continued. "You've never experienced one."
Krasinsky argues that Moroney's actions have done anything but cool the simmering situation.
"Just to be absolutely clear, at the very same time that the police department was made aware of threats of violence [toward Buchanan], at the very same time that a family you know in Oak Park was afraid for their safety and the Oak Park Police Department was doing what it could to keep them safe, Dan Maroney was on right-wing radio making a bad situation worse, furthering the terrorism being experienced by this family and undercutting the work of the police department to protect them," Krasinsky said.
The 58-year-old Buchanan, meanwhile, has been at the center of controversy before. In the 1980s, she joined a group of fellow Denison University students who traveled to Washington, D.C. to protest American aid to the Contras in Nicaragua. In June 1985, she was arrested during an anti-Contras demonstration at the Ohio State Capitol Building in Columbus.
Buchanan is the daughter of Rev. John Buchanan, former pastor of Chicago's famed Fourth Presbyterian Church that sits along the city's Magnificent Mile.