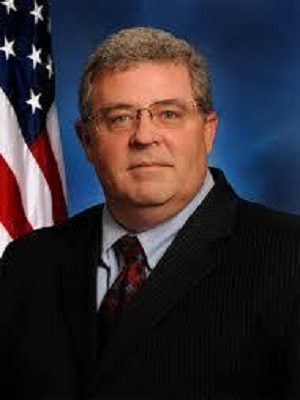 Illinois Auditor General Frank Mautino | None
Republicans in the Illinois General Assembly have tried once again to get answers from Illinois Auditor General Frank Mautino regarding his campaign spending while serving in the House.
Twenty GOP legislators sent a third letter to Mautino after two previous attempts generated little response from Mautino.
On Thursday, May 5, GOP lawmakers led by State Rep. Grant Wehrli (R-Naperville) held a press conference publicly demanding Mautino to respond to their repeated requests for answers.
"It has been 100 days some of these stories broke about his campaign spending and we have sent two previous letters that were answered with a request for more time," Wehrli said at a press conference. "His second letter did request a few additional weeks, that is now 10 weeks ago. The time is now for Auditor General Mautino to step forward and explain his questionable campaign expense and accounting practices under his now closed accounts."
Wehrli went on to state that as the fiscal watchdog of the state, Mautino is expected to operate in a highly ethical manner.
State Sen. Dan McConchie (R-26th District), the newest member of the General Assembly, said he became aware of the questions swirling around Mautino's spending as a private citizen and a candidate running for office.
"I think that we can easily say that there are a lot of voters that don't have a lot of faith necessarily in our government right now, and what they want is answers, clarity and transparency — certainly out of the auditor general, McConchie said. "That is something we should expect and expect in a timely fashion."
Earlier this year, the Illinois State Board of Elections and the Edgar County Watchdogs launched investigations into Mautino's campaign finance records during his tenure as state representative. The records showed extravagant spending of over $200,000 on gas and vehicle repairs over a span of 11 years to Happy's Super Service in Spring Valley, Mautino's hometown. The records also showed irregularities in payments to Spring Valley City Bank.
Other questionable expenses in Mautino's reporting included: an additional $30,000 in state travel reimbursements for legislative duties and service on audit commissions since 2005 — paid by taxpayers' money; $271,417 in state agency payments to family-owned Mautino Distribution Company since 2005, with increased annual payments occurring after Mautino's promotion into Madigan's House Majority leadership team in 2009; $33,000 paid to his wife's family's pizza restaurant since 1999; and $273,973 paid to a local bank from his campaign fund.
In addition, Mautino's campaign treasurer Patty Maunu received 16 payments totaling $23,800 reportedly for meeting expenses since 2013 — although no details were provided on the spending, NBC Chicago reported.
Mautino's reporting also suggested that no single vendor received more than $150. An amount more than $150 to an individual or entity in a quarterly reporting period would require disclosure of the individual's or entity's name and address.
Mautino has said very little about the brewing controversy surrounding his campaign spending. During a news interview in February, Mautino said he was reviewing his campaign expenditures.