Stock photo
Republican legislative leaders and a law enforcement group are aghast that a recent Illinois Department of Corrections policy change means convicted felons who aren't U.S. citizens would be released from prison directly into the community with no notice given to local law enforcement or to U.S. Immigration and Customs Enforcement (ICE).
Kankakee County Sheriff Mike Downey said law enforcement officers were informed on Jan. 30 that release pickups for noncitizens newly released from prison were canceled. He said they were not informed of the policy change and had to go to ICE for information on the new policy.
In 2018, Kankakee County signed a contract with ICE to transfer convicted felons who weren't citizens after being released from prison. The contract also said these convicted felons would be in ICE custody after their release from prison, Downey said.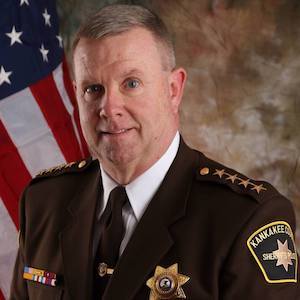 Sheriff Mike Downey
"In just 2019, the Kankakee County Sheriff's office assisted in 223 safe and secure transfers of felons who had been convicted of committing the following crimes in an Illinois community, and these were not mild transgressions," Downey said in a video shared on The Center Square.
These felons committed murder, predatory criminal sexual assault and other violent crimes, Downey said.
The new policy astonished Livingston County Sheriff Tony Childress.
"We have the state of Illinois aiding and abetting a felon fleeing law enforcement," Childress said. "This policy is not acceptable and it creates substantial safety risks for our community, our families and our fellow law enforcement officers."
Downey tried to persuade Gov. J.B. Pritzker to remove the new policy.
"What is it going to take?" Downey asked. "I think that's a question we all have to ask. Is it going to take a kid under 13 getting sexually assaulted? Is that what's it is going to take? Is it going to take somebody getting killed? Is that what it is going to take? I don't know, that's a question the governor is going to have to answer."
Jordan Abudayyeh, a spokeswoman for the governor, said Pritzker is doing everything to protect immigrant families.
"As Donald Trump continues to advance policies that tear apart families and terrorize children, the Pritzker administration is committed to using every tool at our disposal to protect immigrant families in Illinois," Abudayyeh told The Center Square "The governor's office is working closely with the Department of Corrections to review current policies, build on the progress made under the bipartisan Illinois Trust Act that was signed into law in 2017, and ensure the protection of immigrant families and all Illinois communities. As this work moves forward, the Department of Corrections will pause the majority of its interactions with ICE. The governor has made it abundantly clear that Illinois will be a firewall against the president's attacks on immigrant communities."
Lindsey Hess, IDOC spokesperson, said the IDOC was following state law when it didn't transfer non-citizen felons.
"Under the Illinois Trust Act, the Illinois Department of Corrections is prohibited from detaining an individual solely on the basis of an immigration detainer or non-judicial immigration warrant," Hess said. "All incarcerated individuals are released at the expiration of their sentence. We continue to work with the Governor's Office to review our policies and procedures to ensure the safety of Illinois residents and compliance with state law."
Sen. Jason Barickman (R-Bloomington) demanded the state Senate look into the issue of the new policy change while Republican lawmakers and sheriffs called for a reversal of the policy.
The Senate president's office said it would be reviewed.