CITY OF LA SALLE: When do you use the most gasoline?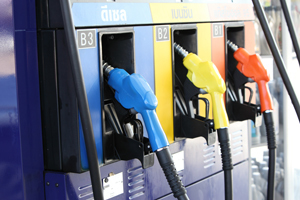 Courtesy of Shutterstock
City of Lasalle issued the following announcement on Aug. 7.
When would you suppose our cities bring in the most taxes from the sale of gasoline?
If you said summer or tourist season, you're only half-correct. The summer months are indeed when Illinoisans burn the most fuel.
But the month when the Illinois Valley records the largest motor-fuel tax receipts is actually December. Christmas shopping seems to bring in more gas taxes than any summer month when our state parks are overrun with tourists.The NewsTribune analyzed motor-fuel tax receipts recorded by the cities nearest the interstates and the state parks and the findings took a few city officials by surprise. In an area where tourism draws thousands of vehicles each summer (1 million visitors in summer 2017 alone), one would suspect the gas receipts to spike around the Fourth of July, not when Santa Claus comes.
"My feeling is that residents drive more during the holiday season to meet family and shop for gifts," said Justin Miller, Peru's director of finance. "July is the second highest average month. More residents are traveling for vacations and the national holiday."
And it's not just Peru. All cities surveyed reported its highest fuel receipts when we're traveling over the river to grandmother's house.
That's based on fuel sales only and does not consider the other convenience-store sales, such as food, tobacco and alcohol; but one service station manager confirmed Yuletide is among her busiest months.
"It may be cold outside," allowed Laurie Loger, manager of East Side Shell in La Salle, "but December is busy because they have Christmas parties and family to visit and presents to buy."
No tourist bump?
The analysis also showed no link between the growth of tourism and fuel receipts, but this is easily explained.
Springfield returns a portion of gas sales to the community where fuel is sold, but the amount returned is based on population — not sales volume. With a per capita basis, motor-fuel sales tax increases only when the host city adds permanent residents.That explains Utica's seemingly puny returns. Last year, the village received $34,500 in motor-fuel tax receipts, or about one-eighth what Peru brings in. That figure, however, was computed based on Utica's little-changed population of 1,400 and has nothing to do with the 2.9 million visitors that crammed Starved Rock last year.
And because the Illinois Valley's population has grown only slightly since the Great Recession, none of the communities posted a cumulative increase in motor-fuel taxes above 5 percent during the five-year period surveyed.
The fact that Utica brings in more fuel-tax revenue around Yuletide, which is the least-visited time of year for Starved Rock and Matthiessen state parks, still came as a mild shock to one Utica official.
"I was surprised," Mayor David Stewart said. "I kind of thought we'd look at late summer early fall as opposed to the winter."
Stewart has good reason to be confounded. For the Utica-area tourist sites, any of the summer months outdraw December by a nearly 4-1 ratio.
We're driving more
In any case, Illinois drivers burn through a lot of gas — nearly 4.9 billion taxable gallons last year — and fuel consumption did rise slightly between 2016 and 2017, albeit by less than 1 percent. A similar up-tick is likely when one considers the summer driving months, when we as a state burn the most gas, which were not yet included in Department of Revenue statistics.
Not surprisingly, gas prices are on the march as the economy improves and as Illinoisans are consuming more fuel, particularly for summer travel. GasBuddy.com reported a national average $2.90 per gallon on Independence Day, the highest such mark since 2014,
"I can say that inventory supplies have been low and demand is high, which is pushing prices higher," said Beth Mosher, director of public affairs for AAA.
Whether prices retreat for the holidays remains to be seen. December, however, is right behind the summertime in average fuel consumption. Last Christmas, Illinoisans burned up 421 million gallons doing our Christmas shopping.
Original source can be found here.
Want to get notified whenever we write about any of these organizations ?
Next time we write about any of these organizations, we'll email you a link to the story. You may edit your settings or unsubscribe at any time.
Sign-up for Alerts
Organizations in this Story
City of Lasalle • Department of Revenue • Department of Revenue • Department of Revenue • Department of Revenue • Department of Revenue • Department of Revenue • Department of Revenue
More News