Proviso District 209 committee to get update on school uniforms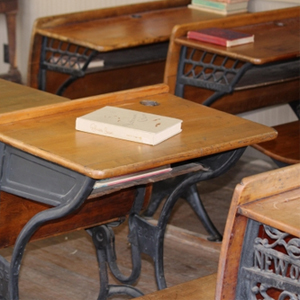 School Desk | MorgueFile/Sgarton
The Proviso Township High Schools District 209 Board's Financial Oversight Panel will receive an update on school uniforms at its next meeting, 1 p.m. Tuesday at Proviso Math and Science Academy, 8601 Roosevelt Road, in Forest Park.
Proviso Township High Schools District 209 is based in Forest Park and includes Forest Park, Hillside, Maywood, North Lake, Melrose Park, Bellwood, Berkeley, Broadview, Stone Park and Westchester.
Below is the agenda for this meeting, as provided by the board.
FINANCIAL OVERSIGHT PANEL
FOR PROVISO TOWNSHIP HIGH SCHOOL DISTRICT 209
AGENDA
Regular Meeting and Executive Session
Proviso Math & Science Academy
8601 Roosevelt Road
Forest Park, IL
Tuesday, May 24, 2016
1:00 PM
1. Call to Order
2. Roll Call
3. Public Comments
4. Superintendent's Reports (for discussion only):
a. Upcoming Agenda Items
b. Curriculum, Instruction and Assessment Reports (Tab 1)
1. Enrollment and Attendance for March 2016
2. Assessment Plan 2016-2017 Draft
3. Freshman Summer 2016 Support Program
4. Student Uniforms Update
5. 2017-2018 School Calendar Draft
6. Parent University 2017
7. Special Education Transportation Reimbursement Process Change
c. Transition Plan Update (Tab 2)
d. FOIA Report (Tab 3)
e. Finance Report (Tab 4)
5. Retire to Executive Session in accordance with 5 ILCS 120/2(c)(1) for the purpose of discussion
of personnel and employment, 5 ILCS 120/2(c)(2) to discuss collective negotiations, 5 ILCS
120/2(c)(11) to discuss litigation, and 5 ILCS 120/2(c)(21) to discuss minutes of meetings
lawfully closed under the Open Meetings Act for purposes of approval.
6. Reconvene Regular Meeting
7. Consent Agenda:
a. Approval of Monthly Personnel Report including addendum, as applicable (Tab 5)
1. Personnel Report
A. Certified Staff
i. Employment
ii. Terminations
B. Non-Certified Staff
FOP Agenda, Page 2
5.24.16
i. Employment
ii. Terminations
C. Other Employments
i. Stipends
D. Approved Leaves
2. Substitute Teacher Pay Rate – Daily and Long Term
b. Approval of bills payable (including attorney's fees) dated May 10, 2016, in the amount of
$2,199,851.64; gross payrolls in the amount of $4,116,690.19; student activity checks in
the amount of $86,785.28; Harris checks in the amount of $0.00; and, special checks in the
amount of $15,355.42. (Tab 6)
c. Attorneys' Fees
d. Contracts and Bids (Tab 7)
1. Health Insurance Broker Bid
2. Fire Alarm Upgrade at Proviso East and West
3. Maintenance Supplies Bid
4. Metal Detectors Bid
e. FY2016 Amended PTHS Budget (Tab 8)
f. Policy Manual Update – Second Reading (Tab 9)
g. Regular Board Meeting Schedule (Tab 10)
h. Amended 2016-2017 School Calendar (Tab 11)
i. Determination of Appeal of Uniform Grievance by Employee (Tab 12)
8. Other Action Items
a. Resolution Approving the Issuance of Not to Exceed $10,000,000 General Obligation Limited
Tax School Bonds, Series 2016, of Township High School District Number 209, Cook County,
Illinois, for the Purpose of Increasing the Working Cash Fund of Said School District (Tab
13)
9. Discussion Items (no action to be taken):
a. Old Business
1. PMSA Summer School 2016 (Tab 14)
b. New Business
10. Adjourn
Want to get notified whenever we write about
Proviso Township High School District 209
?
Next time we write about Proviso Township High School District 209, we'll email you a link to the story. You may edit your settings or unsubscribe at any time.
Sign-up for Alerts
Organizations in this Story
Proviso Township High School District 209
More News